Posted By admin on February 2, 2010
I have a very original viola made by James & Henry Banks of Salisbury, made in 1808. It's of the small-but-sounds-good model, having a back length of 15 3/8 in (384mm). An almost identical one (but dated 1803) is illustrated in Albert Cooper's well-known book Benjamin Banks. It is a shock to realise that it was published over twenty years ago – it seems like yesterday. I knew Albert quite well. The last time I met him was at his home in 1997, in connection with a Pietro Guarneri violin (branded Tononi) that came my way – Albert had another, which I had seen in Volume 1 of his collection.
The Banks book is a godsend; a mine of information. However the bibliography is very brief and does not mention a superb article on the same subject by Betty Matthews, published in The Strad in November 1965. He may not have been aware of it until after his book was published, for old Strad magazines are not indexed. You can't simply look up anything of interest, and the only way to be sure that something has not been published previously is to trawl through old issues. With one per month since May 1890, that's a big task, even assuming you can find a complete run somewhere.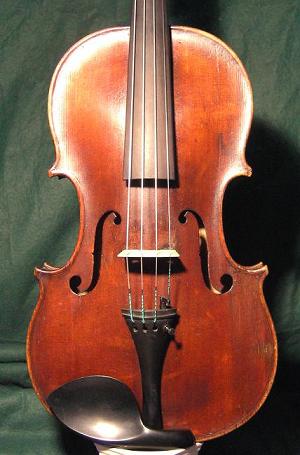 It's a pity, because some wonderful snippets in the earlier article were not mentioned in the book. There is much of interest in Matthews' article, including contemporary opinions about the tone of Banks' cellos compared to Forster's. One of Banks' sons (William) died in Madras. Oh, and the astonishing (and unsubstantiated) statement that only the inferior Stainer-model instruments were sent off to London to be retailed by Longman & Broderip (who were bankrupted in 1798) while the very-much-better Amati-model instruments were sold by himself. These latter models were apparently superior in workmanship and varnish. Also, quoting a contemporary source, that a "superior" Banks cello "fell into the hands of Longman & Broderip, who obliterated the maker's name and put in their own. Afterwards Betts got hold of it, took out the latter name and put in his." This was in the 18th Century, remember. There's nothing new about fake brands and labels. Now, Albert's book is far more comprehensive than the earlier article, but surely he would have included this stuff if he had known about it?
Matthews (and Albert) noted that Banks' business was much more than just stringed instruments – keyboards, woodwind, guitars and music were a large part of it. Albert noted the astonishing regularity and prodigious output of Benjamin Banks after 1770, and noted that an instrument branded B. Banks dating from 1789 was almost identical with another made by James & Henry dating from 1809. Benjamin died in 1795, and he suggests this similarity in styles proves that the same people were involved in the construction of all the instruments. Benjamin had ten children – not uncommon in the 18th Century – and three of them were instrument makers. After the old man's death the business was carried on by two of his sons, James and Henry. At the time of his father's death James was thirty-six years old, and he had been an accomplished maker for nineteen years. His partner was his brother Henry, who was twelve years younger. Both Matthews and Cooper point out that Henry was far more involved with pianos.
An older brother, also called Benjamin, was an instrument maker, but he was not involved with the family business after 1780, when he moved to London. Much later, when James & Henry moved to Liverpool in 1811, he seems to have re-joined the business there. how do i backup my iphone to icloud His instruments are rare. I have never (knowingly) seen one.
So it seems as though my viola was probably made by James Banks. Aware of the commonplace fraud with labels, as mentioned earlier, he branded his instruments in plenty of places – on the blocks and the centre linings. Curiously I could not find an image of the lining – brands anywhere, so here are my efforts.
I found it difficult. My camera automatically focussed on the top of the instrument rather than inside it, and it's not easy to get the lighting right. My viola, by the way, also has its large original label, but hey, everyone knows what they look like.
I have to add that my viola has a repaired soundpost crack in the back, (which, however, is quite invisible from the outside) and some old neck-block damage. So it is not worth much, even if it is lovely.